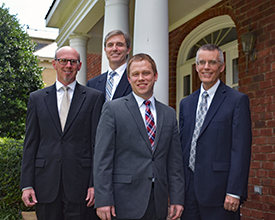 Our firm's attorneys Harry S. Rhodes, Scott A. Butler, Mark W. Dellinger, and Daniel B. Harris practice in the areas of:
---
Specializing in: Business Law; Tax Planning; Estate Planning; Employee Benefits; Real Estate.
I chose the practice of law because it offered me opportunities to help people in a variety of ways. For some, it means planning for…. Read more »
---
Specializing in: Estate Planning; Estate Administration; Trust Administration; Taxation; Business Law; Corporate Law.
Nothing can be more joyous than the birth of child. Nothing can be more traumatic than the death of a family member. I have a strong…. Read more »
---
Specializing in: Elder Law; Estate Planning; Special Needs Trusts; Guardianships; Estate and Trust Administration; Business Law; Guardian Ad Litem; Assisted Living and Nursing Home Planning.
I value family harmony and preserving hard-earned assets. My previous experience in litigation fuels my desire to help families…. Read more »
---